Bildegalleri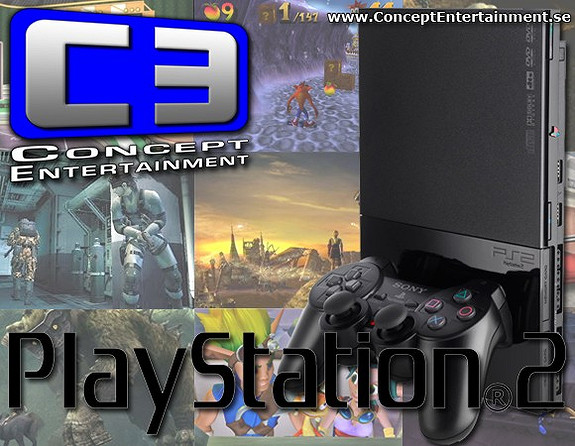 Du bruker en gammel nettleser, som ikke støtter denne bildevisningen. Du kan se alle bildene i bildegalleriet.
SONY PLAYSTATION 2 (PS2): konsoll, tilbehør & spill
Beskrivelse av varen
Välkommen till Concept Entertainment! I vår webbutik ConceptEntertainment.se erbjuder vi ett av Skandinaviens största utbud av TV spel. Vi är baserade i Göteborg, Sverige och skickar till hela Norge.

Här nedan visas våra konsoler, tillbehör och spel till Sony Playstation 2 (PS2).

-----------------------------------------

KONSOLER OCH STARTPAKET (KONSOLL)

Startpaket Basic
Innehåller allt du behöver för att komma igång:
- Sony Playstation 2 konsol
- Kabel för anslutning till TV
- Strömkabel
- Handkontroll Original DualShock 2
- Ett hemligt spel
Pris: se butiken för de senaste priserna.

Vi många fler olika startpaket i lager, i flera färger (sort, satin silver, rose) och både med den första större modellen samt den nyare Slimline/Slim. Vi har även region free konsoler som kan spela amerikanska NTSC-U och japanska NTSC-J spel. Se vår webbutik (nettbutikk) för aktuell lagerstatus och alla priser på de olika paketen.

-----------------------------------------

TILLBEHÖR (TILBEHØR)

Vi har alltid de flesta tillbehören i lager, till exempel:

KONTROLLER

Handkontroll Original DualShock 2 (Håndkontroll)
- originalhandkontrollen från Sony, finns i flera färger

Handkontroll Tredjepart
- Finns i många olika modeller, färger och utföranden

Buzz Buzzers
- De ikoniska kontrollerna för Buzz spelen

Arcade Stick
- arkadkontroll för hemmabruk

Ljuspistol Original Namco G-Con 45
- Original pistolen från Namco

Ljuspistol Virtual Gun
- Pistol från BigBen med många funktioner

Fjärrkontroll
- Bästa kontrollen för dig som använder PS2 för att se på DVD film.

MINNESKORT

Minneskort Original 8MB
- Finns i flera färger

Minneskort Tredjepart 128MB
- större lagringskapacitet än originalet

LJUD & BILD KABLAR

AV Kompositkabel (gul/vit/röd)
- bättre ljud och bild än antennkabel.

Scartkabel RGB
- bättre ljud och bild än antennkabel.

Komponentkabel
- bästa möjliga bild för PS2.

STRÖMFÖRSÖRJNING

Strömkabel för första stora modellen

Ström Adapter för PS2 Slim

ÖVRIGA TILLBEHÖR

Förlängningskabel för handkontroll
- längre räckvidd för dig med större TV-rum.

MultiTap
- spela upp till fyra samtidigt!

Vertikalställ
- För att ställa konsolen vertikalt, finns till både den första modellen och Slimline.

Linkkabel
- för att länka samman två PS2 konsoler.

Eye Toy Kamera
- Sonys EyeToy öppnar dörrarna för annorlunda kontrollmetoder.

Se webbutiken för alla tillbehör med information, lagerstatus och priser.

-----------------------------------------

SPEL TILL SONY PLAY STATION 2 (SPILL)

Vi har för närvarande över 600st spel i lager klara för leverans:

10.000 Bullets
18 Eighteen Wheeler - American Pro Trucker
1945 1 & 2 The Arcade Games
21 Card Games
24 The Game
7 Blades
7 Sins
Ace Combat Distant Thunder & Squadron Leader & The Belkan War
Aeon Flux
Activision Anthology
Age of Empires 2
Agent Hugo 1 & Roborumble
AirBlade
Akira Psycho Ball
Alarm Für Cobra 11
Alias
Aliens vs Predator Extinction
Alone in the Dark
Alone in the Dark The New Nightmare
Alpine Racer 3
Alvin and the Chipmunks
Altered Beast
And 1 Streetball
Animaniacs The Great Edgar Hunt
Ape Escape 2 & 3
Area 51
Armored Core Nine Breaker
Armored Core 2
Armored Core 2 Another Age
Armored Core 3
Army Men Green Rogue & Major Malfunction & Sarge's Heroes 2
Art of Fighting Anthology
Arthur and the Minimoys / Invisibles
Artlist Collection The Dog Island
Asterix & Obelix XXL
Asterix & Obelix XXL 2 Mission Las Vegum
Asterix at the Olympic Games
Astro Boy
Atari Anthology
Atelier Iris - Eternal Mana
Atelier Iris 2 - The Azoth of Destiny
Atelier Iris 3 - Grand Phantasm
Athens 2004
ATV Offroad Fury 2 & 3
Auto Modellista
Avatar - The Legend of Aang
Baldurs Gate - Dark Alliance 1 & 2
Band Hero
Barbie in the 12 Dancing Princesses
Barbie Horse Adventures
Bard's Tale
Batman - Rise of Sin Tzu
Batman Begins
Batman Vengeance
Battlefield 2 - Modern Combat
Beat Down - Fists of Vengeance
Ben 10 Alien Force
Ben 10 Protector of Earth
Beyond Good & Evil
Biker Mice From Mars
Bionicle
Bionicle Heroes
Black
Black Buccaneer
Black Market Bowling
Blade 2
Blood Omen 2 - The Legacy of Kain Series
Bloodrayne 1 & 2
Bloody Roar 3
BMX XXX
Bolt Disney
Bombastic
Bomberman Hardball
Boxing Champions
Bratz Rock Angelz
Brave - The Search for Spirit Dancer
Breath of Fire 5 - Dragon Quarter
Britney's Dance Beat
Broken Sword - The Sleeping Dragon
Brothers in Arms Earned in Blood & Road to Hill 30
Buffy the Vampire Slayer Chaos Bleeds
Bujingai Swordmaster
Burnout
Burnout 2 Point of Impact
Burnout 3 Takedown
Burnout Dominator
Burnout Revenge
Bust-a-Bloc
Buzz - Brain of the World
PS2 Buzz - Norgesmester
Buzz The Big Quiz
Buzz The Hollywood Quiz
Buzz The Mega Quiz
Buzz The Music Quiz
Buzz The Pop Quiz
Buzz The Schools Quiz
Buzz The Sports Quiz
Buzz Junior Ace Racers
Buzz Junior Dino Den / Dinos
Buzz Junior Jungle Party
Buzz Junior Monster Rumble
Buzz Junior RoboJam
Call of Duty - Finest Hour
Call of Duty 2 - Big Red One
Call of Duty 3
Call of Duty - World at War: Final Fronts
Canis Canem Edit
Capcom Classics Collection volume 1 och vol 2
Capcom Fighting Jam
Capcom vs SNK 2
Carmen Sandiego The Secret of the Stolen Drums
Cars / Bilar
Cars Disney Pixar Race-O-Rama
Cartoon Network Racing
Casper and the GhostlyTrio
Castle Shikigami 2 - War of the Worlds
Castlevania - Curse of Darkness
Castlevania - Lament of Innocence
Catwoman
Cel Damage Overdrive
Champions of Norrath
Champions - Return to Arms
Chaos Legion
Charlie and the Chocolate Factory
Charlotte's Web
Chicken Little
Chicken Little - Ace in Action
Clock Tower 3
Code of the Samurai
Colin McRae Rally 3 & 04 & 2005
Commandos 2 Men of Courage
Commandos Strike Force
Conan
Constantine
Conflict Desert Storm 1 & 2
Conflict Global Storm
Conflict Vietnam
Constantine
Contra - Shattered Soldier
Coraline
Crash Bandicoot Action Pack
Crash Bandicoot The Wrath of Cortex
Crash Mind Over Mutant
Crash n Burn
Crash Nitro Kart
Crash of the Titans
Crash Tag Team Racing
Crash TwinSanity
Crazy Frog Racer 1 & 2
Crazy Taxi
Crescent Suzuki Racing
Cricket 2002, 07
Crimson Sea 2
Crisis Zone
Da Vinci Code
Dance Fest
Dancing Stage Max
Dark Chronicle
Dark Cloud
Dark Summit
Darkwatch
Dead Eye Jim
Dead or Alive 2
Death by Degrees
Def Jam Fight For NY
Def Jam Vendetta
Defender - For All Mankind
Demon Chaos
Despicable Me
Destroy All Humans 1 &2
Deus Ex
Devil May Cry 1 & 2 & 3
Devil Kings
Digimon World 4
Dino Stalker
Disgaea - Hour of Darkness
Disgaea 2 - Cursed Memories
Disney Golf
Disney High School Musical Sing It
Disney High School Musical 3 Senior Year (Dance)
Disney Princess
Disney Think Fast
Disney's Extreme Skate Adventure
Donald Duck PK
Donald Duck Quack Attack
Dora Saves the Mermaids
Dot .Hack Part 1 Infection & 2 Mutation
Dragon Ball Z Budokai 3
Dragon Ball Z Infinite World
Dragon Quest 8 - Journey of the Cursed King
Dragon's Lair 3D
Dragonball Z Budokai 2
Dragonball Z Budokai Tenkaichi
Drakengard
Driven to Destruction
Driver 3 - Driv3r
Driver - Parallel Lines
Drome Racers Lego
DTM Race Driver
Dynasty Warriors 2 & 3 & 4
Dynasty Warriors 4 Xtreme Legends
Ecco the Dolphin - Defender of the Future
Endgame
Enter the Matrix
Enthusia Professional Racing
Ephemeral Fantasia
Eragon
Escape From Monkey Island
ESPN NFL 2K5
Eternal Ring
Eve of Extinction EOE
Everblue 2
Everybody's Golf
Evil Dead - A Fistful of Boomstick
Extermination
Extreme G 3 - XG3 Racing
Extreme G Racing Association XGRA
Eye Toy Kamera Silver + Astro Zoo
EyeToy Play 1 & 2 & 3 & Groove & Kinetic Combat & Play Sports
F1 2001 & 2002
F1 Championship Season 2000
Fahrenheit
Family Guy
Fantastic 4 Four
Fast and the Furious
Ferrari Challenge Trofeo Pirelli
Ferrari F355 Challenge
Fifa Football 2002, 2003, 2005, 08, 09, 10, 11
Fifa World Cup 2002
Fifa Street 1 & 2
Fight Club
Fight Night Round 2, 3 & 2004
Final Fantasy 7 VII Dirge of Cerberus
Final Fantasy 10 X, 10-2 X-2, 12 XII
Finding Nemo
Final Fight Streetwise
FlatOut 1 & 2
Flintstones Bedrock Racing
Flintstones in Viva Rock Vegas
Flushed Away
Forbidden Siren 1 & 2
Ford Racing 2
Ford Street Racing
Formula 1 One F1 2001, 04, 05, 06
Frank Herbert's Dune
Freak Out
Freaky Flyers
Free Running
Freedom Fighters
FreekStyle
Fur Fighters Viggo's Revenge
Futurama
G-Surfers
Gadget & the Gadgetinis
Galerians – Ash
Garfield 1 & 2 & Lasagna World Tour
Gauntlet Dark Legacy
Gauntlet Seven Sorrows
Getaway The
Getaway The - Black Monday
Ghost in the Shell - Stand Alone Complex
Ghost Rider
Ghostbusters – The Video Game
Ghosthunter
God Hand
God of War 1 & 2
Godfather The
Godzilla - Save the Earth
Golden Compass The
Goldeneye Rogue Agent
Gradius 3 & 4
Gradius 5 V
Gran Turismo 3 - A-spec
Gran Turismo 4
Gran Turismo Concept 2002 Tokyo-Geneva
Grand Theft Auto 3
GTA - Vice City
GTA Double Pack
GTA - San Andreas
GTA - Liberty City Stories
Grand Theft Auto GTA Vice City Stories
GTC Africa
Grandia 2
Great Escape The
Grooverider - Slot Car Racing
Guerilla Strike
Guilty Gear X
Guilty Gear Isuka
Guitar Hero 2 & 3 Legends of Rock & Aerosmith & Greatest Hits & Metallica & World Tour
Gun
Gunbird Special Edition
Guncom 2
Gungrave
Half Life
Happy Feet
Harry Potter and the Chamber of Secrets
Harry Potter and the Goblet of Fire
Harry Potter and the Half-Blood Prince
Harry Potter and the Order of the Phoenix
Harry Potter and the Philosopher's Stone
Harry Potter and the Prisoner of Azkaban
Harry Potter - Quidditch World Cup
Harvest Fishing
Harvest Moon - A Wonderful Life
Haunting Ground
Headhunter
Headhunter Redemption
Heatseeker
Hello Kitty - Roller Rescue
Herdy Gerdy
Heroes of Might and Magic
Heroes of the Pacific
Hidden Invasion
High School Musical 3 - Senior Year Dance
Hitman - Contracts
Hitman - Blood Money
Hitman 2 - Silent Assassin
Hitman - The Triple Hit Pack
Horsez
Horsez Ranch Rescue
Hot Wheels Stunt Track Challenge
Hot Wheels Velocity X Maximum Justice
Hot Wheels World Race
Hugo Bukkazoom
Hugo Cannon Cruise
Hugo - Magic in the Trollwoods
Hulk
Hyper Street Fighter 2
I-Ninja
Ice Age 2 - The Meltdown
Ice Age 3 - Dawn of the Dinosaurs
Ico
Incredible Hulk - The Official Videogame
Incredible Hulk - Ultimate Destruction
Incredibles The
Incredibles The - Rise of the Underminer
Indiana Jones and the Emperor's Tomb
Indiana Jones and the Staff of Kings
Inspector Gadget - Mad Robots Invasion
Intellivision Lives
International Cue Club
Iron Aces 2 - Birds of Prey
Italian Job The LA Heist
Jade Cocoon 2
Jak and Daxter - The Precursor Legacy
Jak 2 - Renegade
Jak 3
Jak and Daxter - The Lost Frontier
Jak X
James Bond 007 - Agent Under Fire
James Bond 007 - Everything or Nothing
James Bond 007 - From Russia With Love
James Bond 007 - Nightfire
James Bond 007 - Quantum of Solace
James Pond Codename Robocod
Jet Ion GP
Jet Ski Riders
Jimmy Neutron Attack of the Twonkies
Jonny Moseley Mad Trix
Judge Dredd - Dredd vs Death
Juiced
Juiced 2 - Hot Import Nights
Jurassic Park - Operation Genesis
Justice League Heroes
Kaan - Barbarian's Blade
Kart Racer
Kengo - Master of Bushido
Kessen 1 & 2 & 3
Killer 7
Killzone
Kim Possible
King Arthur
King Kong Peter Jackson's
King of Fighters 2000-2001, 2002, XI 11, Maximum Impact 1 & 2, Neowave
King of Route 66
Kingdom Hearts
Kingdom Hearts 2
Klonoa 2 - Lunatea's Veil
Knight Rider - The Game 1 & 2
Knights of the Temple - Infernal Crusade
Knockout Kings 2001, 2002
Kung Fu Panda
Kuri Kuri Mix
Kya Dark Lineage
LA Rush
Le Mans 24 Hours
Legacy of Kain Defiance
Legaia 2 - Duel Saga
Legends of Wrestling
Legion - The Legend of Excalibur
Lego Batman
Lego Indiana Jones
Lego Island Xtreme Stunts
Lego Racers 2
Lego Star Wars
Lego Star Wars 2
Leisure Suit Larry - Magma Cum Laude
Lemmings
Lemony Snicket's A Series of Unfortunate Events
Lethal Skies
Looney Tunes Acme Arsenal
Looney Tunes Back in Action
Lord of the Rings - Aragorn's Quest
LOTR Return of the King
LOTR The Two Towers
LOTR The Third Age
LOTR The Fellowship of the Ring
Lotus Challenge
Lumines Plus
Mace Griffin Bounty Hunter
Madagascar
Madagaskar 2 - Escape 2 Africa
Madden NFL 2001, 2002, 06, 07
Mafia
Magnacarta
Manhunt
Manhunt 2
Mark of Kri The
Marvel Nemesis - Rise of the Imperfects
Marvel Ultimate Alliance
Marvel vs Capcom 2
Mashed - Drive to Survive
Master Rallye
Masters of the Universe - He-Man: Defender of Grayskull
Max Payne 1 & 2
Maximo
Maximo vs Army of Zin
MDK 2 – Armageddon
Medal of Honor - European Assault
Medal of Honor - Frontline
Medal of Honor - Rising Sun
Medal of Honor – Vanguard
Meet The Robinsons
MegaMan X - Command Mission
Mega Man X7
Mega Man X8
Mercenaries Playground of Destruction
Mercury Meltdown Remix
Metal Gear Solid 2 - Sons of Liberty & Substance
Metal Gear Solid 3 - Snake Eater
Metal Slug 3, 4, 5 & Anthology
Miami Vice
Micro Machines
Midnight Club 1, 2, 3 DUB Edition, & 3 Dub Edition Remix
Midway Arcade Treasures 1, 2 & 3
Millennium Championship Paintball 2009
Mission Impossible Operation Surma
Mobile Light Force 2
Mobile Suit Gundam - Federation vs Zeon
Moderngroove Ministry of Sound Edition
Monopoly
Monster Hunter
Monster Jam
Monster Jam Maximum Destruction
Monster Jam Urban Assault
Monster Trux Extreme Arena Edition
Monsters Inc - Scare Island
Monsters vs Aliens
Mortal Kombat Armageddon
Mortal Kombat Deadly Alliance
Mortal Kombat Deception
Mortal Kombat Shaolin Monks
Moto X Maniac
MotoGP 3 & 4
Mr Bean
MotoGP
MTV Celebrity Deathmatch
MTV Music Generator 2
MTV Pimp My Ride Street Racing
Mummy The
Mummy Returns
Muppets Party Cruise
MX 2002
MX vs ATV Unleashed
MX vs ATV Untamed
MX World Tour
Myst 3 - Exile
Narnia - The Lion, The Witch and the Wardrobe
Narnia - Prince Caspian
Naruto Shippuden Ultimate Ninja 5
Naruto Ultimate Ninja 2
Naruto Uzumaki Chronicles
Naval Ops Warship Gunner
NBA 2K7 & 2K8
NBA Live 2001, 2002, 2003, 08
NBA Street
Need For Speed Carbon
Need For Speed Hot Pursuit 2
Need For Speed Most Wanted (Black Edition)
Need For Speed Pro Street
Need For Speed Underground 1 & 2
Neo Contra
Neo Geo Battle Coliseum
Next Generation Tennis NGT
NHL 2001, 2002, 2004, 2005, 06, 07, 09
NHL 2K7 & 2K8
Nightshade
Ninja Assault
Obscure 1 & 2
Off Road
Okami
One Piece Grand Battle
Oni
Onimusha 3
Onimusha Blade Warriors
Onimusha Dawn of Dreams
Onimusha Warlords
Open Season
Operation Air Assault
Operation Winback
Operative No One Lives Forever
Orphen - Scion of Sorcery
Outlaw Tennis
OutRun 2006 - Coast 2 Coast
Over the Hedge
Pac-Man Rally
Pac Man World 2
Pac-Man World 3
Paddington Bear
Parappa the Rapper 2
Paris Dakar Rally
PDC World Championship Darts
Persona 3 FES - Shin Megami Tensei
Persona 4
Peter Pan - The Legend of Never Land
Piglet's Big game
Pilot Down Behind Enemy Lines
Pimp My Ride
Pinball Hall of Fame The Gottlieb Collection
Pirates - The Legend of Black Kat
Pirates of the Caribbean At World's End
Pirates of the Caribbean The Legend of Jack Sparrow
Pitfall The Lost Expedition
Play It Pinball
Police 24/7
Pool Paradise
Pop Idol
Portal Runner
Power Rangers Dino Thunder
Power Rangers Super Legends
Predator - Concrete Jungle
Primal
Primal Collector's Edition
Prince of Persia - The Sands of Time & The Two Thrones & Warrior Within & Trilogy
Prisoner of War
Pro Evolution Soccer PES 1, 2, 3, 4, 5, 6 & 2009
Project Zero
Project Zero 2 - Crimson Butterfly
Project Zero 3 - The Tormented
ProStroke Golf
Pryzm - Chapter One: The Dark Unicorn
Psi-Ops - The Mindgate Conspiracy
Psychonauts
Psyvariar - Complete Edition
Puzzle Party
Quake 3 Revolution
R:Racing
R-Type Final
Raceway Drag & Stock Racing
Rally Fusion - Race of Champions
Rampage - Total Destruction
Ratatouille
Ratchet & Clank 1
Ratchet & Clank 2
Ratchet & Clank 3
Ratchet & Clank Size Matters
Ratchet Gladiator
Rayman 10th Anniversary
Rayman 3 Hoodlum Havoc
Rayman M
Rayman Raving Rabbids
Rayman Revolution
Ready 2 Rumble Boxing Round 2
Real World Golf
Red Dead Revolver
Red Faction 1 & 2
Red Star The
Reservoir Dogs
Resident Evil - Code Veronica X
Resident Evil - Dead Aim
Resident Evil Outbreak
Resident Evil Outbreak File 2
Resident Evil 4
Resident Evil Survivor 2 - Code Veronica
Return to Castle Wolfenstein
Rez
Ridge Racer 5
Riding Star
Ring of Red
Risk - Global Domination
Robotech Invasion
Robots
Rogue Ops
Rollercoaster World
Rugby
Rumble Roses
Rygar - The Legendary Adventure
Salt Lake 2002
Samurai Aces
Samurai Jack - The Shadow of Aku
Samurai Shodown 5
Samurai Warriors
SBK 07 & 08 & 09 Superbike World Championship
Scarface - The World is Yours
Scooby Doo and the Spooky Swamp
Scooby Doo First Frights
Scooby Doo Mystery Mayhem
Scooby Doo Night of 100 Frights
Scooby Doo Unmasked
Scorpion King - Rise of the Akkadian
Sega Bass Fishing Duel
Sega Classics Collection
Sega Mega Drive Collection
Sega Soccer Slam
Sega Superstars (Eye Toy)
Sega Superstars Tennis
Seven Samurai 20XX
Shadow Hearts
Shadow Hearts 2 - Covenant
Shadow Hearts 3 - From the New World
Shadow of Rome
Shadow of the Colossus
Shadow the Hedgehog
Shadow of Zorro
Shamu's Deep Sea Adventures
Shaun White Snowboarding
Shellshock Nam 67
Shin Megami Tensei - Digital Devil Saga 1 & 2 & Lucifer's Call
Shinobi
Shinobido Way of the Ninja
Showdown Legends of Wrestling
Shrek 2
Shrek Superslam
Silent Hill 2
Silent Hill 3
Silent Hill 4 - The Room
Silent Hill Collection
Silent Line Armored Core
Silent Scope 1 & 2 - Fatal Judgement
Silpheed - The Lost Planet
Simpsons Hit & Run
Simpsons Road Rage
Simpsons Skateboarding
Simpsons The Game
Sims The
Sims Bustin Out
Sims 2
Sims 2 Castaway
Sims 2 Pets Djurliv
Singstar 1
Singstar 80s
Singstar 90s
Singstar ABBA
Singstar Anthems
Singstar Bollywood
Singstar Boybands vs Girlbands
Singstar Kent
Singstar Legends
Singstar Motown
Singstar Party
Singstar Pop Hits
Singstar Popworld / Pop
Singstar Queen
Singstar R&B
Singstar Rock Ballads
Singstar Rocks
Singstar Singalong with Disney
Singstar Summer Party
Singstar Svenska Hits
Singstar Svenska Hits Schlager
Singstar Take That
Sky Odyssey
Slam Tennis
Sly Raccoon
Sly 2 - Band of Thieves
Sly 3 - Honour Among Thieves
SmackDown vs Raw
Smuggler's Run 2 – Hostile Territory
SNK vs Capcom SVC Chaos
Sniper Assault
Sniper Elite
Socom - US Navy Seals 1 & 2
Soldier of Fortune - Gold Edition
Son of the Lion King
Sonic Gems Collection
Sonic Heroes
Sonic Mega Collection Plus
Sonic Riders 1 & Zero Gravity
Sonic Unleashed
Soul Reaver 2 - The Legacy of Kain Series
Soul Calibur 2
Soul Calibur 3
Space Channel 5
Space Invaders Anniversary
Space Invaders Invasion Day
Space Race
Spartan - Total Warrior
Spawn Armageddon
Speedboat GP
Spider-man 1 & 2 & 3 & Friend or Foe
Spiderwick Chronicles
SpinDrive Ping Pong
Spongebob Squarepants - Creature from the Krusty Krab & Movin with Friends & Revenge of the Flying Dutchman & Lights Camera Pants
Springdale
Spy vs Spy
Spyro - A Hero's Tail
Spyro - A New Beginning
Spyro - Dawn of the Dragon
Spyro - Enter the Dragonfly
Spyro - The Eternal Night
SSX
SSX 3
SSX On Tour
SSX Tricky
Star Ocean - Till The End of Time
Star Trek Conquest
Star Trek Shattered Universe
Star Wars Battlefront
Star Wars Battlefront 2
Star Wars Bounty Hunter
Star Wars Episode 3 Revenge of the Sith
Star Wars Jedi Starfighter
Star Wars Racer Revenge
Star Wars Starfighter
Star Wars Super Bombad Racing
Star Wars The Clone Wars
Star Wars The Force Unleashed
State of Emergency
Steambot Chronicles
Steel Dragon EX
Street Fighter Alpha Anthology
Street Fighter EX3
Strike Force Bowling
Stuntman
Stuntman Ignition
Suffering The 1 & Ties That Bind
Suikoden 4
Suikoden 5
Suikoden Tactics
Summer Heat Beach Volleyball
Summoner 1 & 2
Super Bust-a-Move 1 & 2
Super Monkey Ball Adventure
Super Monkey Ball Deluxe
Super Trucks
Superman Returns
Superman Shadow of Apokolips
Surf's Up
Syberia 2
Syphon Filter Dark Mirror & The Omega Strain
Taito Legends
Taito Legends 2
Tak 3 - The Great Juju Challenge
Tak and the Guardians of Gross
Tarzan Freeride
Teen Titans
Tekken Tag Tournament
Tekken 4
Tekken 5
Tenchu - Fatal Shadows
Tenchu - Wrath of Heaven
Tengai
Terminator - Dawn of Fate
Terminator 3 - Rise of the Machines
Terminator 3 - The Redemption
Test Drive Unlimited
Tetris Worlds
Theme Park World
Thing The
Thunderbirds
Thunderhawk Operation Phoenix
Tiger Woods PGA Tour 2004, 2005, 07 & 08
Tim Burton's Nightmare Before Christmas Oogie's Revenge
This is Football 2002 & 2003
Tiger Woods PGA Tour 07
Time Crisis 2
Time Crisis 3
Time Splitters
TimeSplitters 2
TimeSplitters Future Perfect
ToCA Race Driver 1 & 2
Tokobot Plus - Mysteries of the Karakuri
Tokyo Xtreme Racer
Tom and Jerry in War of the Whiskers
Tom Clancy's Ghost Recon 1 & Advanced Warfighter & Jungle Storm
Tom Clancy's Splinter Cell 1 & Chaos Theory & Double Agent & Pandora Tomorrow
Tomb Raider Angel of Darkness
Tomb Raider Anniversary
Tomb Raider Legend
Tomb Raider Underworld
Tony Hawk's American Wasteland
Tony Hawk's Downhill Jam
Tony Hawk's Pro Skater 3 & 4
Tony Hawk's Project 8
Tony Hawk's Proving Ground
Tony Hawk's Underground 1 & 2
Top Gun
Top Gun Combat Zones
Top Spin
Torino 2006
Tour De France
Total Club Manager 2004
Transformers
Transformers -The Game
Transformers - Revenge of the Fallen
Trapt
True Crime New York City
Turtles Teenage Mutant Ninja
Turtles Mutant Melee
Turtles 2 Battlenexus
Turtles 3 Mutant Nightmare
Turtles TMNT
Twenty 2 Party
Twisted Metal Black Online
Ty the Tasmanian Tiger
Ty the Tasmanian Tiger 2 - Bush Rescue
Ultimate Casino
Ultimate Spider-man
Under the Skin
Unreal Tournament
Up Disney Pixar
Urban Chaos - Riot Response
Urban Reign
Urbz The - Sims in the City
Valkyrie Profile 2 - Silmeria
Vampire Night
Van Helsing
Vexx
Vietcong Purple Haze
Viewtiful Joe
Viewtiful Joe 2
Virtua Cop Elite Edition
Virtua Fighter 4
Virtua Fighter 4 Evolution
Virtua Tennis 2
Wacky Races - Mad Motors
Wacky Races starring Dastardly & Muttley
Wakeboarding Unleashed
Wallace and Gromit - The Curse of the Were-Rabbit
War of the Monsters
Warhammer 40000 - Fire Warrior
Warriors The
Way of the Samurai 2
Whirl Tour
Wild Arms 3 & 4
Winnie the Pooh's Rumbly Tumbly Adventure
Wipeout Fusion
World Championship Snooker 2002
World Destruction League WDL - Warjetz
World Heroes Anthology
World Poker Tour
World Super Police
World Wrestling Championship
Worms 4 - Mayhem
Worms Blast
Worms Forts - Under Siege
Wrath Unleashed
WRC World Rally Championship
WRC 2 – Extreme
WRC 3 FIA World Rally Championship
WRC 4
WRC Rally Evolved
Wreckless - The Yakuza Missions
WWE SmackDown Here Comes the Pain
WWE SmackDown Just Bring It
WWE Smackdown vs Raw
WWE Smackdown vs Raw 2006, 2007
WWI Aces of the Sky
WWII Soldier
WWII Tank Battles
X-Files - Resist or Serve
X-treme Quads
XII Stag
XIII
X-Men - The Official Game
X-Men 2 - Wolverine's Revenge
X-Men Legends
X-Men Origins - Wolverine
Yakuza 1
Yakuza 2
Ys - The Ark of Napishtim
Zombie Zone
Zone of the Enders
Zone of theEnders 2 - The 2nd Runner

-----------------------------------------

ATT HANDLA HOS OSS FRÅN NORGE

Det är enkelt att handla hos oss i vår webbutik.

Alla priser i Svenska Kronor (SEK).

Fraktkostnaden till Norge räknas ut efter vikt. I kassan kan du se hur mycket frakten blir. Vi använder Svenska Postens portotabell. Våra Norska kunder kan betala med Visa eller Mastercard. Vi skickar normalt alla beställningar inom 48 timmar så leveranstiden till Norge är normalt 3-6 postdagar. Vi erbjuder 1 års garanti på nya varor och 3 månaders garanti på begagnat (brukt). Alla begagnade varor är testade och fungerar 100% om inte annat tydligt anges. Vår målsättning är att du ska bli supernöjd med allt!

Concept Entertainment erbjuder ett av Skandinaviens största sortiment av TVspel. Vi har både nytt och begagnat och allt från retro till det senaste. Vårt sortiment innefattar Nintendo NES/SNES/64/Gamecube/DS/Wii, Sega Master System/Mega Drive/Game Gear/Mega CD/32X/Saturn/Dreamcast, Sony Playstation 1/2/3, Microsoft Xbox 1/360, Atari, 3DO med mera.

Concept Entertainment AB
www.ConceptEntertainment.se
VAT#: SE556751496201
NB: Knappen for å vise hele beskrivelsen har kun en visuell effekt.
NB: Knappen for å vise hele beskrivelsen har kun en visuell effekt.
Nøkkelinfo
Type

Playstation

Tilstand

Brukt
Annonseinformasjon
| | |
| --- | --- |
| FINN-kode | 44537119 |
| Sist endret | 14. aug. 2018 19:44 |